2021
August
Loose Threads: The Don Little Collection
Bath Textile Artists recently took part in a collaborative exhibition between Chippenham Museum and Bath Textile Artists which centred on the Don Little Collection. Because of COVID-19 restrictions, the exhibition was available to view only online but a slightly reduced version will be shown at The Yelde Hall in Chippenham during August.
Venue: The Yelde Hall, Market Place, Chippenham SN15 3HL
Dates: Friday and Saturday 13th and 14th August 2021
Friday and Saturday 20th and 21st August 2021
Friday and Saturday 27th and 28th August 2021
Opening Hours: 10.30 am to 3.30 pm
See www.chippenham.gov.uk/chippenham-museum for more information.
Don Little lived in Chippenham his entire life and bequeathed to Chippenham Museum his vast collection of postcards, photographs and ephemera relating to the town. This collection reflects his fulfilling life that saw him at the heart of community life in the town from his work at Westinghouse to his support of Chippenham Carnival, Athletics Club and Civic Society.
Alongside the collection was work created especially by Bath Textile Artists in response to different parts of the collection as diverse as Goss crested china. World War 1 postcards and Don's personal family photographs.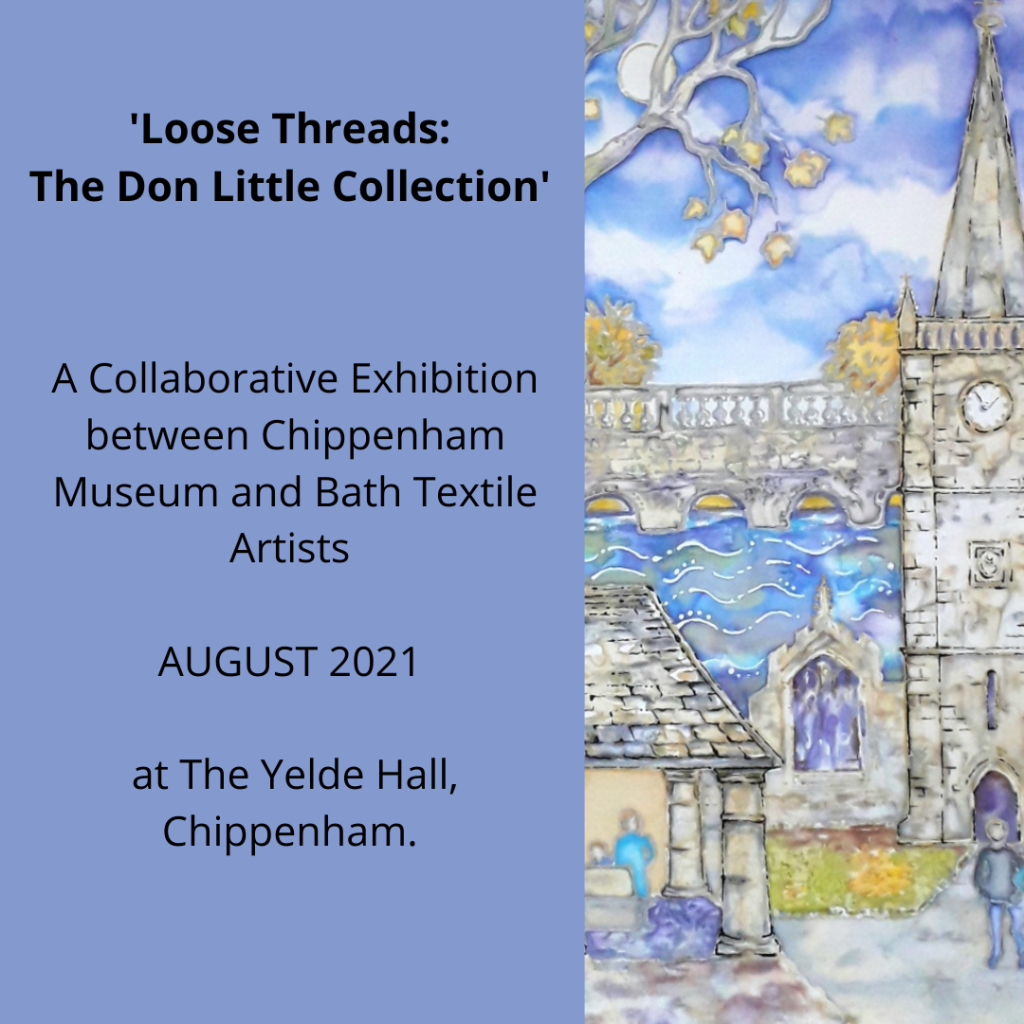 July
Multi-Layered Medley – Bath Textile Artists
The Bath Textile Artists group presents 'Multi-layered Medley', a selling exhibition including a wide variety of techniques. The exhibition features a group project titled 'Outside', each o f us has represented what nature, our gardens and the open air has meant to us during the pandemic.
Venue: British Schoolroom, Cliff Road, Sherston, SN16 0LN.
Date: 17th – 18th July, 2021
Opening Hours: Saturday 10am – 6pm; Sunday 12.30pm – 6pm
January
Exhibition to be held in Chippenham Museum, Wiltshire.
Loose Threads: The Don Little Collection
.
UPDATED EXHIBITION INFORMATION:
Our exhibition will be opening online Friday 22nd January till Wednesday 31st March.