How We Started
In 1984 a group of friends wanted a focal point for ideas to be exchanged and to arrange exhibitions. So 'The Embroiderers of Bath' was born to accomplish these aims, starting with 14 members. In 1985 they held their first exhibition. 'A Flourish of Threads', was held in The Bridge Bookshop (sadly no longer with us), Bridge Street, Bath.
The following year an exhibition entitled 'Circle with the Seasons' was hung in The Global Village Crafts, Green Street, Bath. Over the next two years the annual exhibition was held at The Global Village Crafts. The 5th exhibition, in November 1989, was moved to the Campden Works Museum (now The Museum of Bath at Work), Julian Street, Bath. They changed their name to 'Textile Artists and Embroiderers of Bath' to be more inclusive of textile skills. The group described themselves as 'enthusiastic workers, some with City & Guilds and some with a lifelong interest in the embroidery'.
It was decided at this time to more publicly state the objectives of the group. They wrote that they aimed to hold an annual exhibition in settings less formal than the atmosphere of an art gallery e.g. shops and museums. Also that the whole range of fabric arts – painting on fabric, weaving, dying, "pure" embroidery, machine embroidery, fabric paper making and any combination of the above was to be included.
In 1991 the terms of membership were clarified. Monthly meetings were to be held in members' houses and a minimum number of meetings had to be attended to maintain membership. All members had to be prepared to help set up exhibitions. Work must be new, thus hoping to bring freshness and vitality to the pieces submitted for selection.
The 7th exhibition was held in 1992 in Bath Central Library exhibition room. The group was still called 'Textile Artists and Embroiderers of Bath' at this stage.
It was in 1996 that the name of the group was shortened to the more compact 'Bath Textile Artists' and that is still used today. Group numbers have fluctuated between eight and fourteen. The idea was to keep the group efficient and friendly. Meetings are now roughly at six weekly intervals, with flexibility due to the work commitments of the members.
Exhibition venues have since included Westonbirt Arboretum, Norton St Philip, Bradley Stoke Gallery in Bedminster, The Space in Stroud, Bristol Guild, Fisherton Mill in Salisbury, The Guild of Cotswold Artists Gallery in Nailsworth, The Pound Arts Centre in Corsham and The Bath Royal Literary and Scientific Institute. The last two are the regular venues for Bath Textile Artists exhibitions.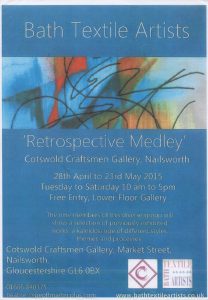 Spring Exhibition 2005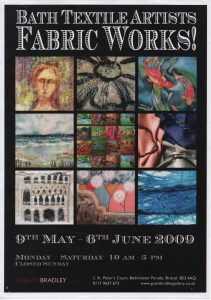 Summer Exhibition 2009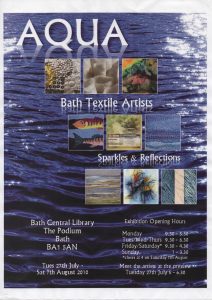 Summer Exhibition 2010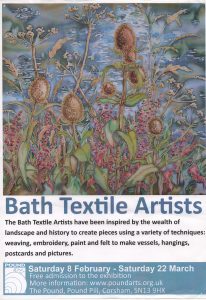 Spring Exhibition 2014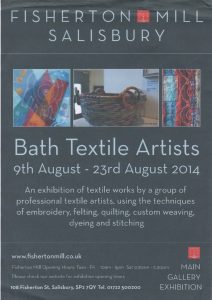 Summer Exhibition 2014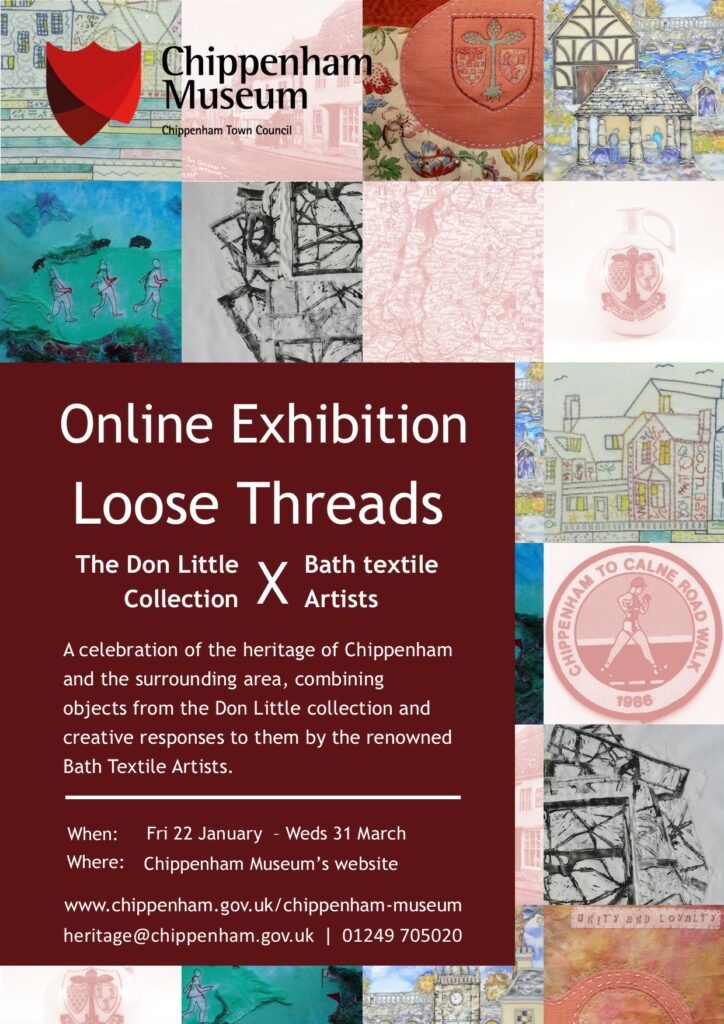 Spring Exhibition 2021
Summer Exhibition 2021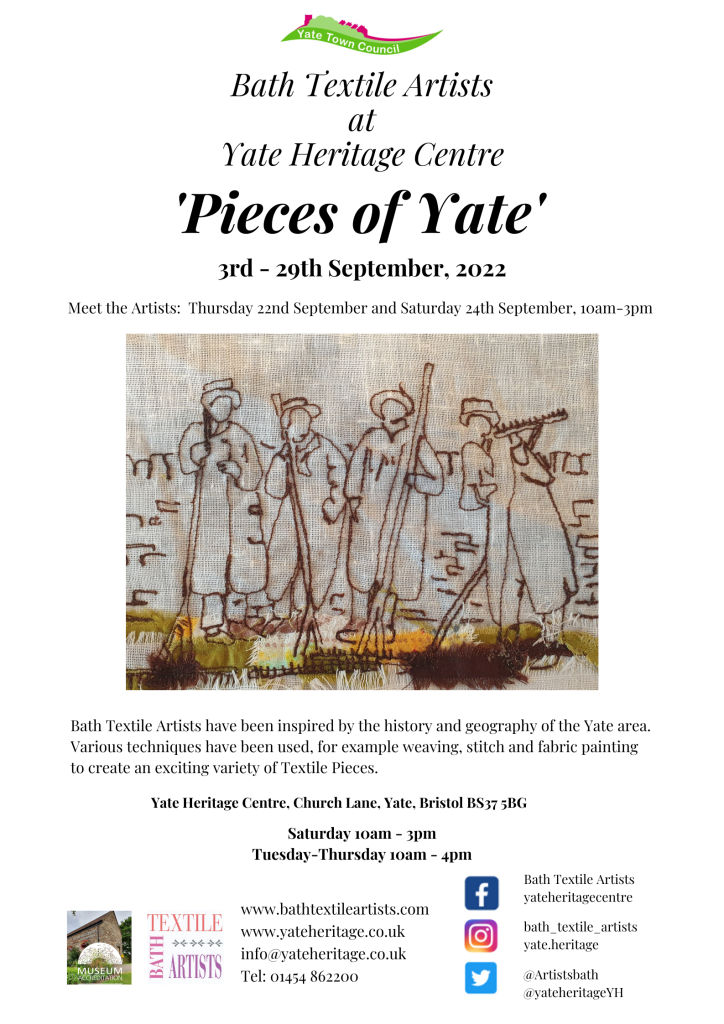 Summer 2022
Winter Exhibition 2022